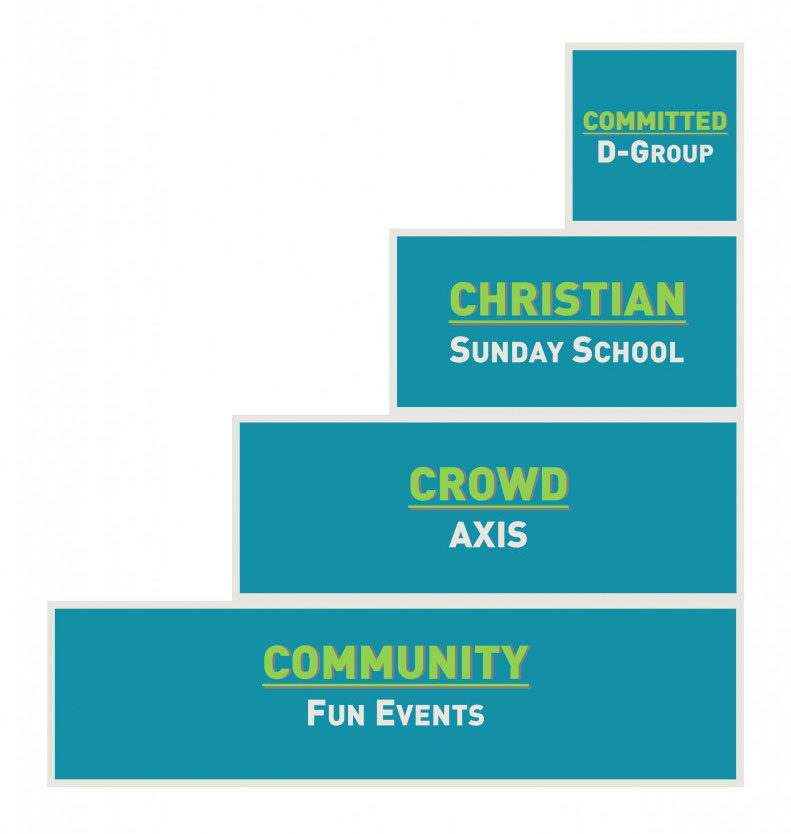 We believe in relational youth ministry. Thus, we have many great programs for kids of different ages and spiritual maturity levels but also a lot of great volunteers to help mentor and disciple our teens. Our programs fit into 1 of 4 categories, we like to call it the Climb of  a Disciple.
Fun Events: These events and retreats are for all teens and their friends: the Community we live in. These include: lock-ins, bowling, corn mazes, Fifth Quarter (hang out after Football Games), movie parties, ice cream parties, Ultimate Frisbee, crazy and sometimes messy games, Romans and Christians (best game ever!!!), Christmas parties, Service projects around town, concerts, and so much more!
Retreats: We also have a number of retreats throughout the year: The Turn (8th-12th Grade) Fall Retreat, Winter Blast: School Retreat, AgapeFest (Christian Music Festival), Guys Escape & Girls Escape (separate retreats for guys and girls), Challenge (EFCA Youth Conference), Colorado Wilderness Trip, AXIS Camp, and Youth Mission Trips.
AXIS: On Wednesday from 6:30-8PM we meet in the Youth room and have AXIS: regular Wednesday night program. On the first and third Wednesdays we'll meet with the Middle School students , and on the second and fourth Wednesdays we'll meet with the High School students. (Check out our calendar to see who is meeting this week.) This is for our regular Crowd of teens: a mixture of Christians and non-Christians. Food. Bible. Games. Worship.  Hang out. Friends. What more could you want? A regular night looks like this: come around 6pm to hang out and snack, play some games, hear a talk, and worship God through music until about 7:30. After that we get into some small groups to catch up with each other, talk, and pray. So, bring your friends, come hang out, and learn about God with us!
Sunday School: Designed for our Christian teens who want to be taught Biblical truth. Meets every Sunday morning from 9:15-10:30AM.
The 180 (8th-12th grade): We meet in the Youth Room to dive deep into God's Word and get into Core Groups. Core Groups are smaller groups designated by age and gender.
The Image (6th -7th grade): Students meet in room 132, on the main level of the church, in the east hallway, by the library.